Advertisements
Makhadzi Confirms Exit From Open Mic Productions, Floats Own Label "Makhadzi Entertainment".
Dancefloor queen, Makhadzi has confirmed her exit from Open Mic Productions. Her confirmation comes days after it was rumoured that the Murahu-hitmaker won't be renewing her contract with the giant record label.
Makhadzi, real name Ndivhudzannyi Ralivhona was signed into Open Mic Productions records in March 2020. That same year, she released her debut album 'Kokovha,' which went on to reach gold status and was the most streamed album in the country in 2020.
Advertisements
After 3 years of fruitful and productive working relationship with Open Mic Productions, Makhadzi is officially ending all contracts and is set to launch her own record label, Makhadzi Entertainment.
"I would like to thank Open Mic Productions for the good work and contribution they made in my music
career and have learnt a lot from them. They have really played a huge role in my growth as an individual and for that I will always appreciate the company and the good working relationship we
had. I have taken a decision to not renew the contract with Open Mic Productions so I can focus on
my own company 'Makhadzi Entertainment' and other business ventures. We are all aware that the music career is very short, and I feel that it's time I grow my own business and myself as an individual so that I can leave a legacy for my family and those who depend on me." Part of Makhadzi's media statement reads.
Henceforth, Open Mic Production will no longer represent Makhadzi in terms of performance bookings and other related matters. For those who would love to contact or book Makhadzi should contact her own independent records, bookings@makhadzientertainment.co.za
See full statement below.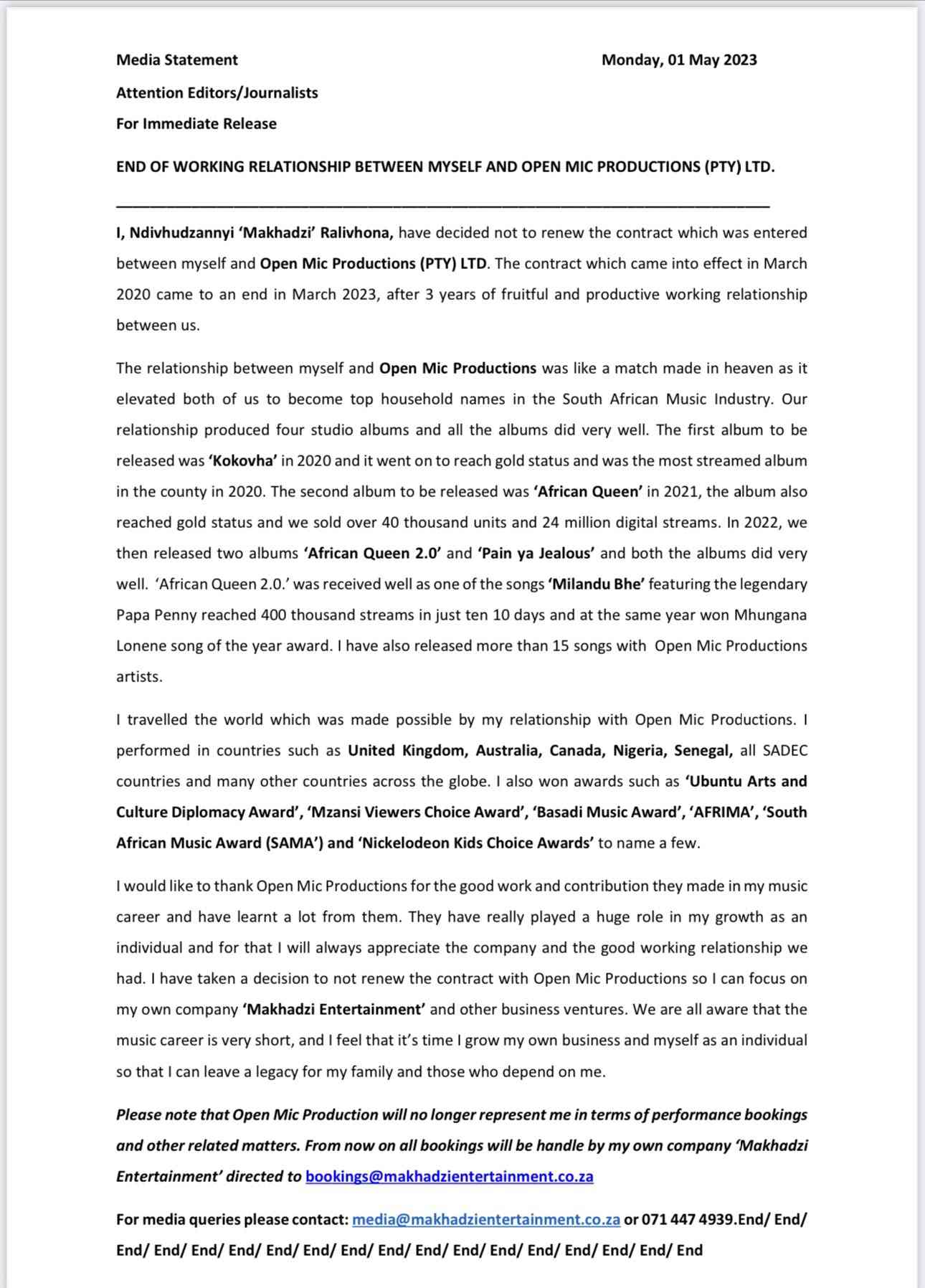 Fakaza Download Inc. - Copyright © 2023 | Theme Designed by Kreative Kanon